Impact of Smartphones on Sustainability
Published on 12.09.22
< Back
A new smartphone may seem like a small purchase, but the environmental impact of manufacturing and using one is surprisingly large
Many people today cannot imagine living without their mobile phones. And while there are many reasons for this, one of the most important is that mobile phones allow us to stay connected with the world. But what happens when we use these gadgets in ways that may be harmful to ourselves or others?
This is where ESG (environmental, social and governance) comes into play as a critical element as it encompasses how our actions as individuals and as a society affect the planet and its people. This is the first in a series of articles highlighting the impact of various elements of the digital economy on sustainability.
It's estimated that mobile phones now account for more than half of our online time and more than half of the world's web traffic. Mobile phones are now an indispensable part of our lives, and it's no surprise that they play such a big role in our online activity.
The rise of the smartphone has been nothing short of meteoric. In just a few short years, these devices have gone from being a rarity to becoming almost ubiquitous. Today, smartphones account for roughly four out of every five mobile phones in use worldwide.
This dramatic shift has been driven by many factors, including the increasing affordability of smartphones and the availability of high-speed wireless networks. But perhaps the most important factor has been the sheer usefulness of these devices.
Although smartphones bring great convenience to our lives, they also have an environmental cost.
Deloitte Global predicts that in 2022:
4.5 billion smartphones will generate 146 million tons of CO2 or equivalent emissions.
Over 80% of these emissions will come from the manufacture, shipping, and first-year usage of 1.4 billion new smartphones.
3.1 billion smartphones in use, refurbishment of existing smartphones, and end-of-life processes, including recycling, make up the balance.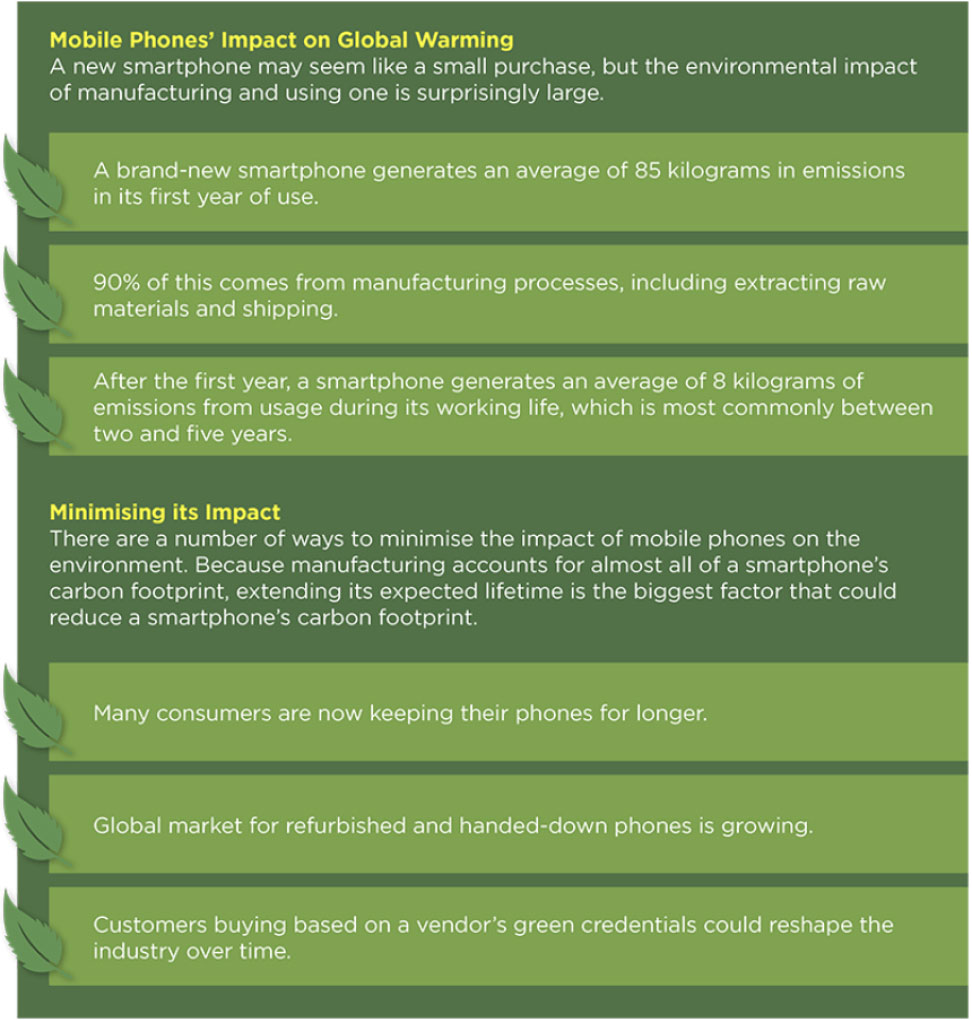 As environmental concerns become more important to consumers, firms that don't consider sustainability in their operations may find themselves at a competitive disadvantage. This could significantly impact the smartphone industry, with those manufacturers able to produce durable, eco-friendly devices gaining a competitive advantage. In the long run, this could reshape the industry, with more sustainable practices becoming the norm.