Cover Story: Growing a greener digital economy
Published on 14.11.22
< Back
Malaysia's digital economy, which currently makes up 22.6% or one-fourth of the nation's economy, has grown by leaps and bounds since the Covid-19 pandemic. However, little attention has been paid to its carbon footprint.
The economic activities under this umbrella, which are expected to contribute as much as 25.5% to gross domestic product — outperforming oil and gas, traditionally the biggest contributor — in the next three years, are critical to delivering the country's net-zero carbon emission targets by 2050.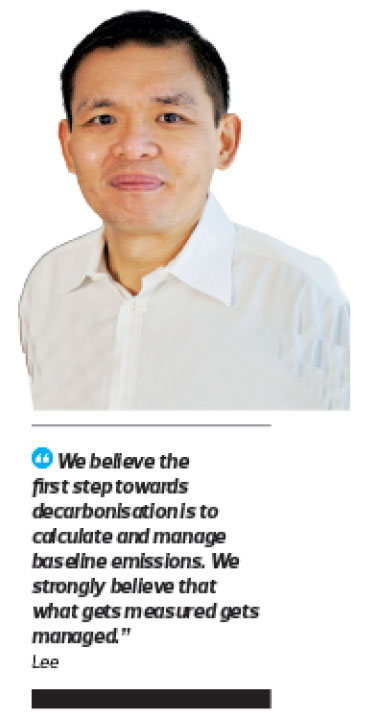 Pushing the tech industry to play its part in providing transparent information about energy consumption and plans for carbon emission reductions, Malaysia Digital Economy Corporation (MDEC) in partnership with United Nations Global Compact Network Malaysia and Brunei (UNGCMYB) launched the Malaysia Digital Climate Action Pledge (MDCAP) on Oct 13 in conjunction with Malaysia Digital Week 2022.
The pledge comes as world leaders gathered at the annual United Nations (UN) Climate Change Conference 2022 (COP27) in Sharm el-Sheikh, Egypt, to discuss action to tackle climate change following another year of climate-related disasters and record-high greenhouse gas (GHG) emissions.
Global temperatures have risen 1.1°C and are heading towards 1.5°C despite concerted efforts to limit global temperature rises, according to the Intergovernmental Panel on Climate Change (IPCC) climate scientists. If temperatures rise 1.7° to 1.8°C above 1850s levels, the IPCC estimates that half the world's population could be exposed to life-threatening heat and humidity.
With MDCAP, the government hopes to identify the blind spots in the nation's carbon neutrality aspirations, says Dr Sumitra Nair, senior vice-president of strategy and policy at MDEC. "[The pledge] was spurred by the whole climate conversation. It's not something that we can ignore. It's here, it's real. We're seeing it all around us," she says.
"We are interested in [the digital economy], particularly because since the pandemic, we have seen how digitalisation has [impacted] the economy and society. Some people say 'digital' is the economy because it's in everything that we do right now."
According to the UK's Royal Society in its "Digital technology and the planet: Harnessing computing to achieve net zero" report (December 2020), digital technology is estimated to have contributed 1.4% to 5.9% to global emissions. The report added that the digital technology sector's footprint can be reduced through multiple approaches, including the further uptake of renewables and the scrutiny of digital technology's energy proportionality; for example, whether specific data and computing applications bring environmental or societal benefits that outweigh their emissions.
While a wide range of estimates has been published for the carbon footprint of digital systems themselves, the Royal Society recommended that further work was needed to evaluate the potential climate impact of the increasing use of digital technologies. "Digital technologies developed and deployed in pursuit of net zero must be energy-proportionate — that is, they must bring environmental or societal benefits that outweigh their own emissions," stated the report.
A greener digital environment
The objective of MDCAP, which is voluntary, is to onboard the local digital ecosystem to manage its climate impact and support other businesses to create greener digital solutions.
"UNGCMYB is a natural partner in the [sustainability space]. It has been one of the very active advocates of environmental, social and governance [ESG] practices and has access to knowledge and resources within the larger UN organisation," says Sumitra.
To date, MDCAP signatories consist of 36 businesses — a marked increase from the initial 28 during the launch on Oct 13 — 80% of which are small and medium enterprises (SMEs) and 20% multinational corporations from the digital economy sector. The signatories are required to commit to a minimum of two out of six sustainability commitments, including conducting business operations in an environmentally responsible manner through reduce, reuse and recycle practices; taking action to minimise GHG emissions by implementing energy efficiency or renewable energy or other emission-reducing measures; and implementing responsible sourcing across the supply chain.
Other commitments are defining a climate governance strategy in accordance with the mission, vision and values of the company; encouraging stakeholder dialogue on the company's sustainability practices; and sharing sustainability best practices in terms of strategies, action plans and initiatives.
While there are no specific criteria for companies to commit to the pledge, MDCAP is mainly targeted at tech start-ups and SMEs because these entities mostly lack the resources to undertake such measures, says Sumitra.
Sustainability adoption by large corporations and SMEs is rather disparate, she adds. "Some companies are a little bit further along in [their sustainability journey]. However, SMEs are probably going to need a little bit more help in terms of the level of awareness and understanding [on sustainability]."
Sumitra says MDEC's strategy to convince businesses to get on board the climate pledge is by making them see the business case for it. Companies need to be told about the consequences of not complying with sustainability standards, she says. For example, SMEs that are not sustainable will not be able to do business with MNCs that have pledged to work only with suppliers that adhere to social and environmental standards.
"It's always about the risk rather than value creation," says Sumitra.
This is why MDEC is doubling its advocacy work to convince businesses that the digital economy is also shifting to become greener.
"[Tech companies] need funding, talent and [knowledge] on the know-hows [for their sustainability journey]," she says.
While MDEC received positive feedback from the 300 companies it reached out to, a majority stated that they needed more time to look into the pledge and gain management approval.
"I think it's good that they take their time rather than just agree [to the pledge] for public relations purposes. We want this to be a calculated decision, that they are fully aware of what they're getting into and what they are signing on for," she says.
The MDCAP signatories will be given an array of resources, including a carbon toolkit on their website and access to e-learning courses on ESG and climate provided by Taylor's University.
Moreover, MDEC and UNGCMYB are also working on developing a playbook for digital companies to kick-start their sustainability journey. Sumitra shares that the playbook, which is expected to be launched by the end of December, will be available on MDEC's website.
Once the foundation is established, MDEC aspires to facilitate partnerships between signatories as well as the agency's partners to assist companies in their sustainability journey. Eventually, the agency hopes for all companies listed under Malaysia Digital to sign on to MDCAP.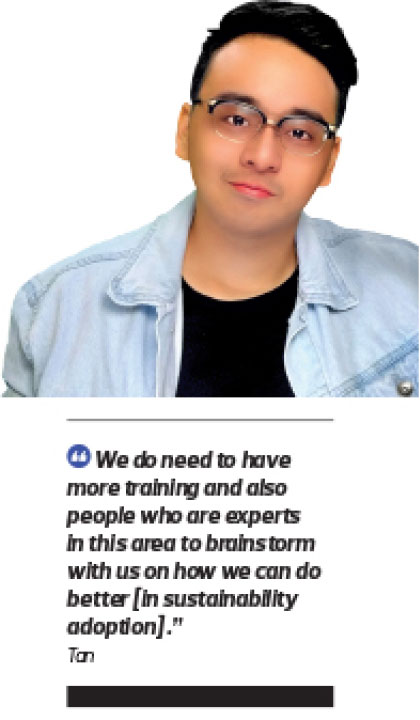 In need of sustainability know-how
However, transitioning to low-emission practices and sustainability is not an easy feat for technology companies even though the sector is not the most carbon-intensive, says Margie Ong, partner at Environmental Resources Management Sdn Bhd (ERM), a global sustainability consultancy.
"The tech sector contributes 2% to 3% of the total GHG emissions today and this is expected to increase. Issues ranging from e-waste to energy consumption will be exacerbated by the rate of technology adoption across the world. Lower emission products and services need to be identified to reduce the contribution of the sector," says Ong.
Adopting sustainability practices requires the top leadership to declare their commitment to adopting best practices, funding and the technicalities of sustainability reporting from product design to end-of-life, she adds.
"It is encouraging to see local and global agencies in the nation's drive towards a low-carbon economy. However, we need to ensure that guidance to the market is more specific, actionable and measurable, as well as aligned to commonly recognised frameworks and metrics," Ong stresses.
Companies operating in the digital economy require sustainability know-how, say executives from ClickBinar Solutions, IRIS Corporation Bhd and Pantas Software Sdn Bhd, which are among the 36 MDCAP signatories.
"The conversation around the digital climate is new to us. It is really interesting and important at the same time. We do need to have more training and also people who are experts in this area to brainstorm with us on how we can do better [in sustainability adoption]," says Niel Tan Yi Li, CEO and co-founder of ClickBinar, a digital marketing firm.
Sustainability need not be overwhelming; it starts with the desire to be a better, more responsible business, adds Shaiful Subhan, group CEO of IRIS Corporation, a technology consultancy. "Digital economy actors, especially, are pivotal change agents in enabling the fulfilment of national and global goals on the climate agenda."
Shaiful believes that becoming more sustainable in an effective way is a challenge that is well worth the reward for businesses. "An environmentally aware business considers more than just profits — it considers its impact on society and the environment. Such a business is sustainable because it contributes to the health of the structure within which it operates," he adds.
Max Lee, CEO and co-founder of Pantas — a carbon management solutions provider — which has already committed to the Science Based Targets initiative (SBTi), adds that it was a natural progression for the company to support MDCAP.
"As Pantas had already pledged and received validation from SBTi, we believe it was only natural to support MDEC's initiative with hopes to further encourage SMEs to also pledge to international bodies such as SBTi in the future," says Lee.
A partnership between CDP, the United Nations Global Compact, World Resources Institute (WRI) and the World Wide Fund for Nature (WWF), SBTi enables organisations to set science-based emissions reduction targets. It aims to mobilise companies across the world to halve their emissions before 2030 and achieve net-zero emissions by 2050.
ClickBinar and IRIS are committed to two undertakings respectively each, while Pantas is committed to all six undertakings listed by MDCAP. Before committing to MDCAP, neither ClickBinar nor IRIS conducted any carbon reporting. ACE Market-listed IRIS, however, has filed sustainability reports that touched on the generation of hazardous waste, chemical spillage and environment-related violations.
As for ClickBinar, it has limited resources as a tech start-up, says Tan. Having committed to MDCAP, Tan says the time is ripe for the firm to engage its business affiliates on their collective responsibilities towards climate change. "I believe we must plan to have this discussion with all our merchants and affiliates every month. To make it better, we can give cash values to all our merchants and affiliates who are willing to create awareness and take action to reduce digital climate change."
As a carbon management software creator, Pantas has been keeping track of its emissions since last year. Its total carbon emission for 2021 was 42.3 tonnes of carbon dioxide equivalent (tCO2e).
"We aim to increase our efforts to share our experiences so far in calculating our emissions, to further help other signatories with theirs. At Pantas, we believe the first step towards decarbonisation is to calculate and manage baseline emissions. We strongly believe that what gets measured gets managed," says Lee.
The act of knowledge sharing is in line with MDCAP's objective to connect all players in the digital ecosystem to encourage each other to adopt sustainability.
"The larger companies are quite well placed, they're already quite aware. They have already started issuing their reports, making disclosures and signing up to certain global frameworks, but the SMEs haven't," says MDEC's Sumitra. "The purpose of MDCAP is to also get the large corporations to support and guide SMEs to get onto this journey."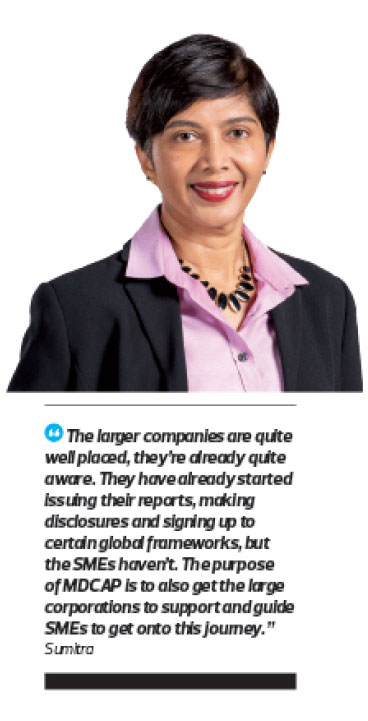 Flushing greenwashing
To ensure that MDCAP isn't used as a publicity tool, MDEC's Sumitra says that signatories are required to comply with at least two out of six commitments listed in the pledge.
Why just two? It would be unrealistic to expect companies, especially SMEs, to achieve all six from the get-go, considering that even MNCs often fail to comply with sustainability standards despite the arsenal of tools at their disposal, she stresses.
According to the Corporate Climate Responsibility Monitor 2022 by NewClimate Institute for Climate Policy and Global Sustainability, only three of 25 of the world's most powerful businesses that committed to climate pledges during the UN climate summit last year conducted "deep decarbonisation". The report notes that 13 companies provided detailed plans that would curb emissions by an average of 40% instead of 100% over the next few decades, while the rest did not provide any clear details on their commitments.
"Within 12 months, they have to disclose [a report on their progress]. This is to ensure that the signatories understand that we're serious about this [pledge] and we don't want it to be [another form of] greenwashing," says Sumitra.
All signatories have committed to report annually on their progress against the two commitment options that they have chosen using a user-friendly reporting template that will be included as a resource in MDEC's ESG microsite.
"We will measure progress primarily against four core aspects — leadership, people, process and resources," Sumitra adds.
In the event the signatories are unable to commit to the pledge or show unsatisfactory progress, MDEC will look into the cause that hindered their progress instead of dropping them from the programme.
"This is also an opportunity for us to understand the challenges that Corporate Malaysia is facing, and provide those inputs to stakeholders that can assist with this, whether it is a matter of know-how, lack of funding, talent, technology or policies. This is where MDEC will be able to understand better and help facilitate those issues.
"Through MDCAP, we hope to galvanise the 'power', if you like, for the whole ecosystem to support the nation's green aspirations," says Sumitra.